The following testimonials are from verified patients and families whose lives have been touched by Horizon Specialty Hospital of Las Vegas. Their heartfelt words are a reflection of our commitment to providing patients with a warm and nurturing environment that fosters respect, trust, reassurance and healing.
Tell us what you think!
If you or a family member have been, or are currently, a patient at Horizon Specialty Hospital of Las Vegas and would like to share an experience you have had with us, please send us your own testimonial.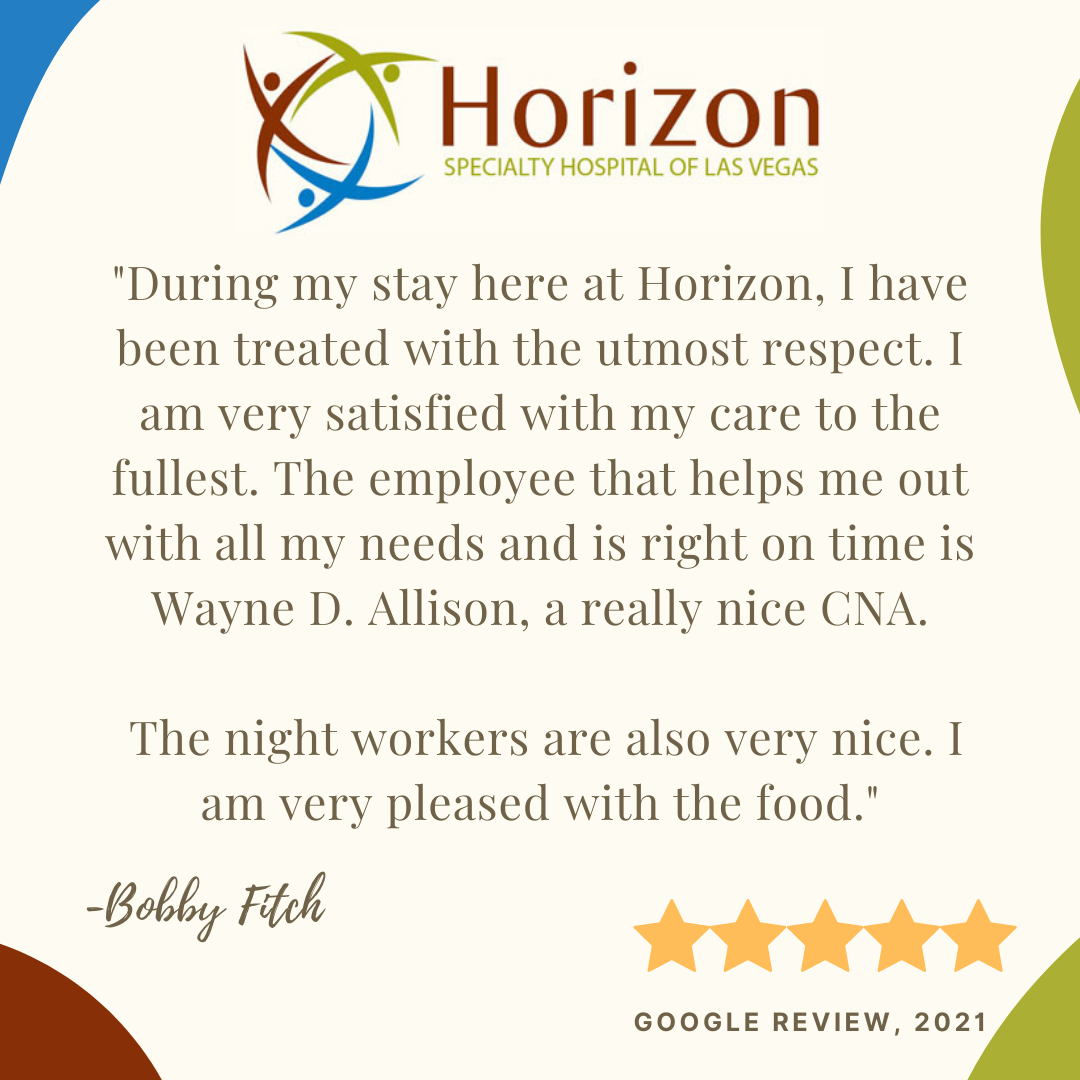 "During my stay here at Horizon, I have been treated with the utmost respect. I am very satisfied with my care to the fullest. The employee that helps me out with all my needs and is right on time is Wayne D. Allison, a really nice CNA.
The night workers are also very nice. I am very pleased with the food."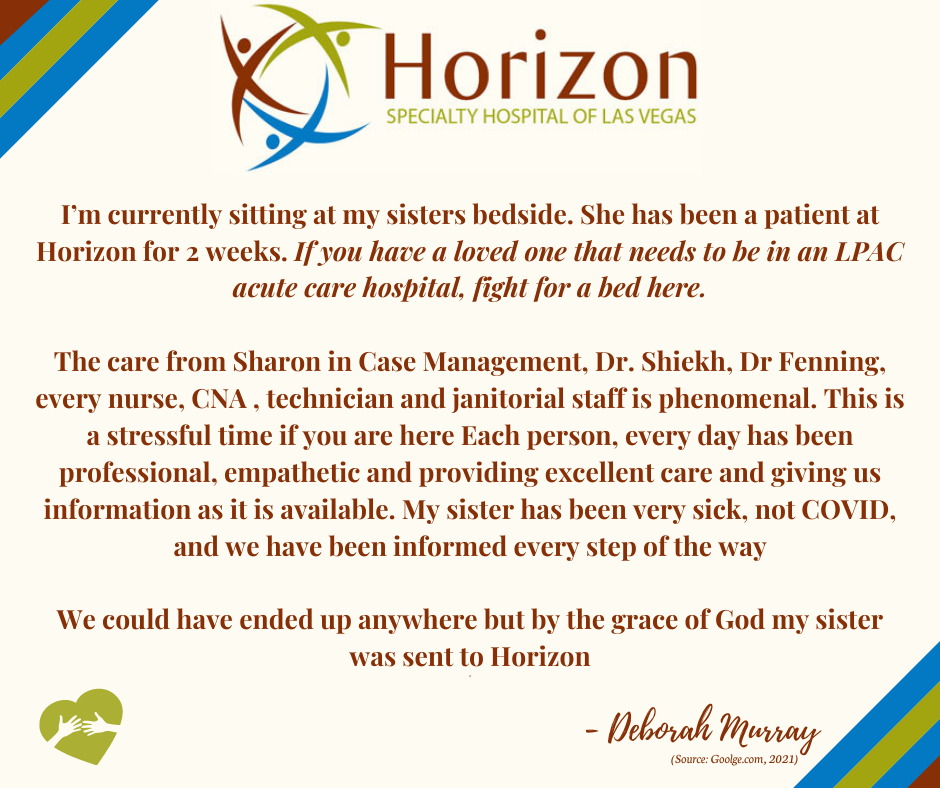 I'm currently sitting at my sisters bedside. She has been a patient at Horizon for 2 weeks. If you have a loved one that needs to be in an LPAC acute care hospital, fight for a bed here.
The care from Sharon in Case Management, Dr. Shiekh, Dr Fenning, every nurse, CNA, technician and janitorial staff is phenomenal. This is a stressful time if you are here Each person, every day has been professional, empathetic and providing excellent care and giving us information as it is available. My sister has been very sick, not COVID, and we have been informed every step of the way
We could have ended up anywhere but by the grace of God my sister was sent to Horizon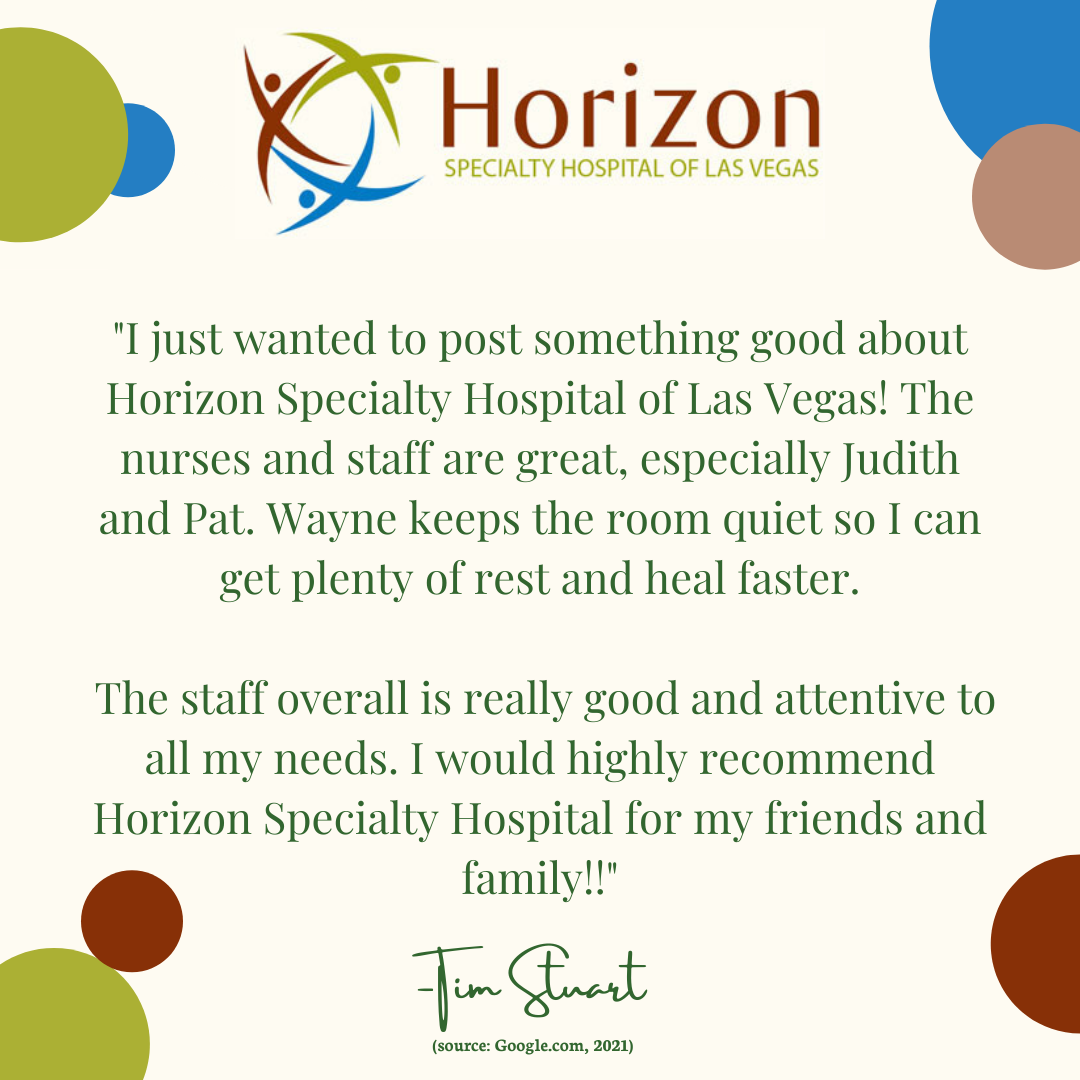 "I just wanted to post something good about Horizon Specialty Hospital of Las Vegas! The nurses and staff are great, especially Judith and Pat. Wayne keeps the room quiet so I can get plenty of rest and heal faster.
The staff overall is really good and attentive to all my needs. I would highly recommend Horizon Specialty Hospital for my friends and family!!"